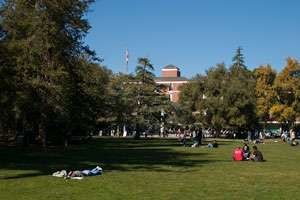 UC Davis is a world-class university situated in the relaxed community of Davis, California. The university offers numerous opportunities to connect with clubs on campus, pursue athletics, learn new crafts, go on outdoor adventures and much more.
Davis, California, is an active, progressive community noted for its residents' quality of life and commitment to sustainability. Located about 70 miles northeast of San Francisco and 15 miles west of Sacramento, Davis has a friendly, small-town atmosphere alongside big-city amenities. Find out more about living, working, arts, services and entertainment in Davis.
Community Diversity
The UC Davis Forensic Science Graduate Program welcomes students from across the country and all over the world, with a rich variety of cultures, backgrounds and interests. Founded on the principle that diversity improves education and the community, our on-campus Cross Cultural Center is a nexus of cultural competency, community building, and identity exploration. Understanding and appreciating diversity is fundamental to success in an increasingly complex world. To best prepare today's students for their lives after graduation, UC Davis fosters a diverse community where cultural and intellectual heritage is celebrated.
Through the Diversity, Equity, and Inclusion Committee, DEI, the following resources are available.
Reporting discrimination and hate
Student Health and Mental Counseling Services
For additional information, please visit Graduate Diversity at UC Davis.